Management traineeship
Might you be our next management trainee?
Apply here with your CV and motivation as a Management Trainee!
A traineeship at Distrilog Group aims to give highly skilled or recent university graduates the opportunity to explore the labour market. The ultimate goal is to provide the trainee with a good overview of the different departments in our company and then for them to move on to a great job with us that best suits their ambitions, skills, and interests.
Our traineeship is unique and limited in number. This approach makes it possible to guarantee optimum guidance and support, create room for individual initiative, and ensure there is sufficient variety in assignments. Although a framework has been defined, Distrilog Group is open to trainees' input on the content of the assignments. We can offer a great deal of freedom and independence by shifting away from predetermined career paths.
As a trainee, you can follow various programmes lasting 6 to 12 months. The programmes have you working at several sites: Willebroek, Londerzeel, Vilvoorde, Olen, and Ghent. All trainees start at our site in Breendonk where they roll up their sleeves and work alongside colleagues in the warehouse for six weeks. The trainee then participates in one of the following four programmes: Supply Chain, Transport, Sales or Human Resources.
What do we offer?
a paid learning experience that takes you behind the scenes of a major Belgian logistics and transport company.
the opportunity to take a challenging and exciting journey where you have the freedom to define the road to your career.
contribute to the growth of an organisation where sustainability and innovation are highly valued.
personal coaching and attention.
terrific terms of employment.
Curious about the experiences of Management Trainee Jo-Nathan? You can read it here!
Interested in this traineeship?
Apply via traineeship@distrilog.be (regarding Els Velghe) with your CV and motivation letter.
Some testimonials of our trainees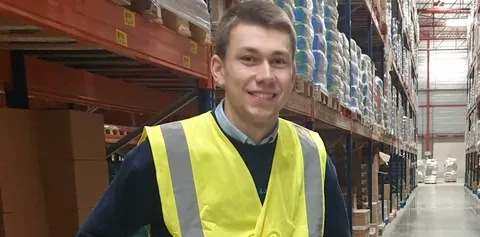 Jo-Nathan Stuart
Traineeship Supply Chain, 2022-2023
"I have been warmly welcomed by my colleagues and the vibe within the company is very good. My training is varied, I'm given plenty of challenges and responsibilities, but I can also count on the necessary coaching when needed. The point of my training is to ideally advance to assistant site manager after one-and-a-half to two years. That's why I want to continue my efforts to gain more insights into Distrilog Group's logistics processes and hope to successfully grow further in my future position as a manager."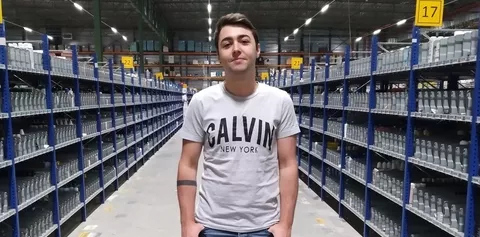 Jens Meskens
Traineeship Supply Chain, 2022-2023

"Before starting my traineeship, I had been part of the Distrilog family for several years. As a student, I started working in order picking in e-commerce back in 2015. I then combined my studies in logistics management with the night shift on Fridays, and I gradually progressed to team leader on Saturdays. Since July 2022, I have been working as a trainee and in this role I mainly focus on location management and optimisation. What I find particularly appealing at Distrilog is the friendly atmosphere among colleagues and the variety of tasks!"
Julie Dierckx
Transport traineeship, 2020-2021
Transport coordinator
'When I left school, I didn't have a specific idea of what I wanted to do. So, I started looking for a traineeship in the world of transport and logistics. The biggest advantage? I'm not tied to a single specific task, but can look around and get a global overview of the operations and various activities in the Distrilog Group!'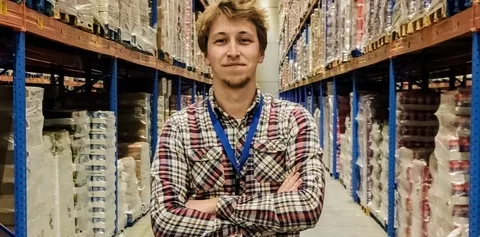 Ruben Van Assche
Traineeship Supply Chain, 2015-2016
Londerzeel (W2) site manager/Business Analyst Education
'I got the bug when I was young because some of my relatives work in logistics. After graduating with my degree in commercial engineering, I wanted to gain practical experience in the workplace. Distrilog Group turned out to be perfect because of the many possibilities, family structure, and short lines of communication.'