Conversation with a colleague: Management Trainee Jo-Nathan
17-02-2023
Jo-Nathan completed his studies in Commercial Engineering - Operations Management at UGent and started as Management Trainee in our Ghent office, Evergem in September 2022. We asked him about his motivation and ambitions.
How did you end up with the Distrilog Group?
"In view of my broad-based education, I wasn't sure about the specific direction that I wanted to take in my professional career after completing my studies. I therefore started looking for vacancies that matched my studies and interests, which would preferably comprise a training trajectory that would prepare me for a managerial position. That's how I stumbled upon the vacancy of Management Trainee at Distrilog at the Ghent office - an ideal commuting distance from where I live."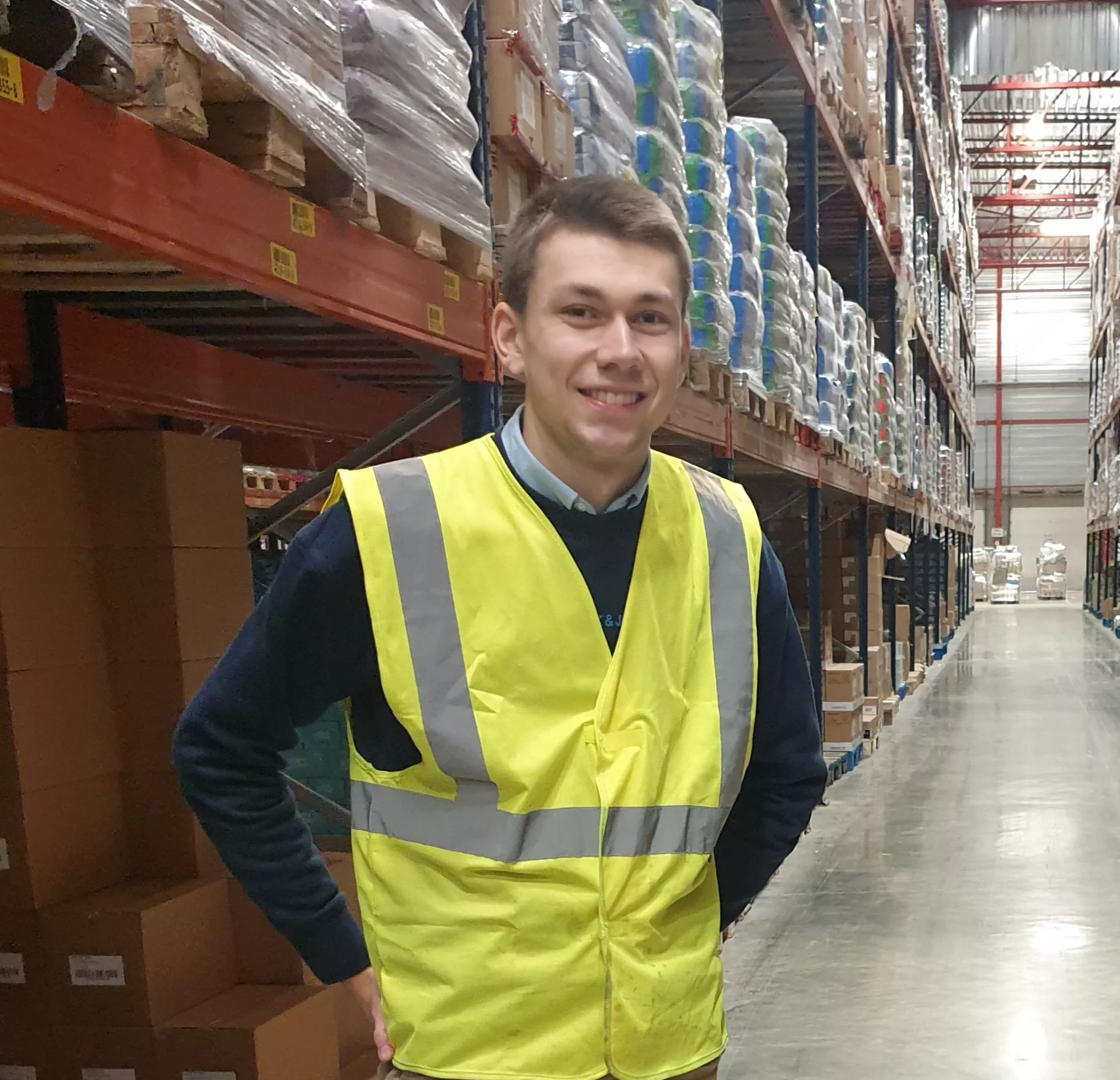 What are your duties as a trainee? Which are the project(s) you are working on at present?
"My traineeship should ideally end in a promotion as (assistant) site manager after one and a half to two years. This obviously entails a lot of responsibilities, which also makes it necessary that I acquire a thorough understanding of the company and all the logistics processes. For the first two weeks therefore, I started working as an order picker, in order to understand the picking process and how things work in the warehouse. I found this an extremely instructive experience, since it is the foundation on which a deep understanding of all logistics actions behind the scenes can be based. I then worked as a customer service representative with the customer Castrol's exports department and then with Tom & Co's imports department. This helped me gain a sound understanding of the import and export process and of the administrative tasks involved. I was also already actively involved in the start-up of a new customer and constantly updated about key changes and events within our facility."
How did your start-up at Distrilog Group go?
"I was pleasantly surprised at how the first few weeks went. Having just completed my studies, I was obviously very excited about how this leap in the dark would turn out and how I would like the new work rhythm. However, I was very well received by an enthusiastic team of friendly colleagues who helped me as best they could and whom I could always approach with my questions. Since I am eager to learn and to obtain an as thorough an understanding of everything as possible, I am happy that they also want to help, assist and challenge me to the maximum possible extent."
What are your ambitions going forward?
"I look forward to deepening my understanding of our branch, and by extension, to thoroughly familiarising myself with the entire company and its supply chain, in addition to fulfilling the responsibilities involved. In addition, I have already had the opportunity to work at one of the sites in Willebroek and to visit the headquarters along the A12, and hope to get to know the other sites as well. I would therefore like to continue working on deepening my understanding of Distrilog's logistics processes and hope to successfully grow further into my future position as a manager."
Would you recommend others also take up a Management Traineeship at Distrilog?
"Oh, absolutely! I was given a very warm welcome and the atmosphere within our company is fantastic. My broad-based training as a Management Trainee offers a lot of variety, and I am given challenges as well as responsibilities, but at the same time I can also count on receiving the necessary guidance. I am looking forward to continuing my journey with the Distrilog Group."
Contact our team for a collaboration or tailor-made solution
At Distrilog Group, we like to take into account the wishes and needs of the customer. This is why we are happy to help you find the best solution. Curious about the available options? You're welcome to contact us.