Constantly moving towards sustainable logistics
28-01-2022
Our family business has invested heavily in sustainable solutions in recent years. We will remain on course during 2022. What follows is a list of the green initiatives we have already achieved and what is still planned.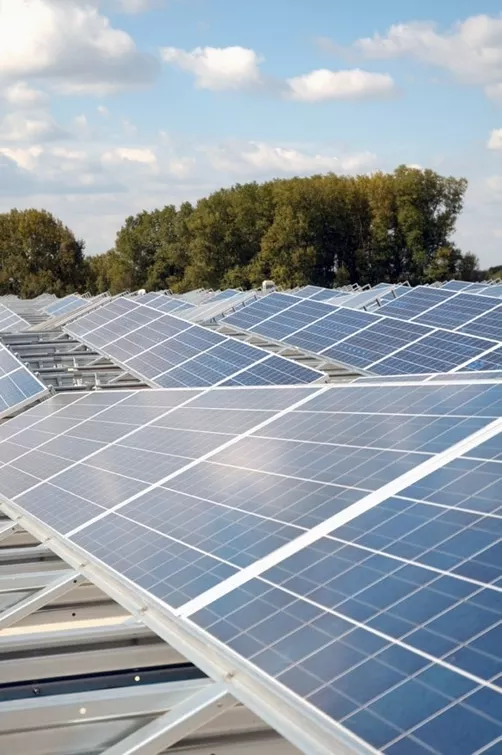 These green solutions have been successfully implemented and are bearing fruit every day:
Solar panels;
Rainwater recuperation;
Waste sorting
LED lighting;
Air-emissions heating
Carton machine;
Paperless service through the use of on-board computers and scanners;
DHB network;
Multi-modal transport;
Eco-driving;
Freight consolidation;
Increased load factor;
Return transport;
Optimised transport planning;
LNG trucks;
Pilot project of a truck running on HVO diesel.
In 2021, we complemented these efforts with:
Decreasing our paper consumption
Since the introduction of scanners in our distribution vehicles, our paper consumption has decreased remarkably. And we have fully switched to recycled paper for the rest of our paper consumption.

Plant-based coffee cups
Sustainable logistics goes beyond our fleet and warehouses. Our coffee machines are now equipped with coffee cups made from 100% renewable raw materials; they even have a vegetable-based coating.

10 new LNG trucks
We added to our green fleet of 21 LNG vehicles last year with 10 additional vehicles.

Additional LED lighting
In addition to our depots in Evergem, Bornem, Weversstraat 2 in Londerzeel and Victor Dumonlaan 40 in Willebroek, we also equipped our garage in Westmeerbeek and our sites in Victor Dumonlaan 2 and 3 in Willebroek with energy-efficient LED lighting.

Charging stations for electric bicycles
We installed charging stations for electric bicycles in the bicycle sheds at our depots in Breendonk and in Victor Dumonlaan 2 and 40 in Willebroek.
On schedule for 2022:
Additional LED lighting
In 2022, we will going ahead with our warehouses in Breendonk (59,000 m²) and Vilvoorde (73,000 m²) for clear savings on energy consumption.

10 extra LNG vehicles
Just like 2021, our fleet will be expanded with 10 new LNG vehicles in 2022, bringing the total to 41.

Investigation into charging stations for electric cars
In addition to charging stations for electric bicycles, we also started a preliminary investigation into the installation of charging stations for electric cars on our sites.

Cooling optimisation in collaboration with Encom
Distrilog and Encon are collaborating to determine which technical and infrastructural improvements related to sustainable enterprise can be made to our buildings and cooling installations.

First electric truck
We hope to welcome the first electric truck to our fleet in 2022.
To be continued.
Contact our team for a collaboration or tailor-made solution
At Distrilog Group, we like to take into account the wishes and needs of the customer. This is why we are happy to help you find the best solution. Curious about the available options? You're welcome to contact us.